HEMA loves Difrax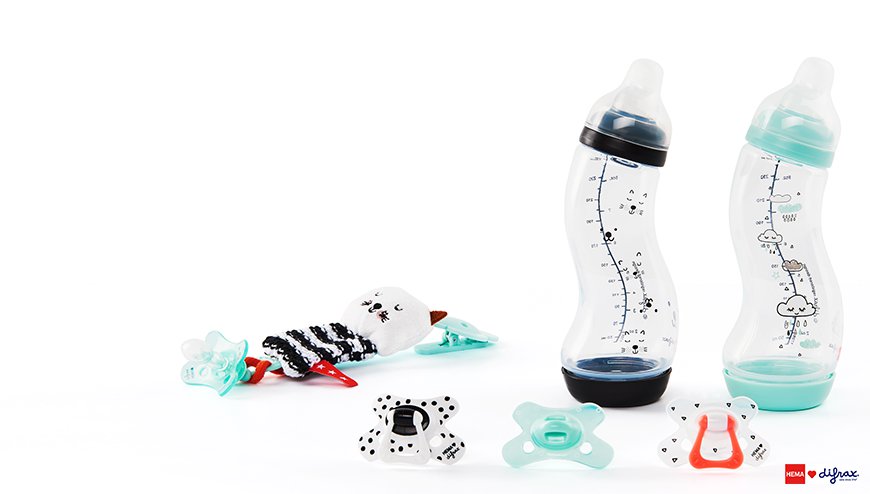 In collaboration with Difrax, HEMA is introducing a new range of pacifiers and baby bottles, , including two S-bottles and four duo packs of soothers with a unique HEMA design. Difrax is an expert when it comes to the design and production of baby products. Just like HEMA, Difrax strives to make life easier for (soon-to-be) parents and children. So it's hardly surprising that HEMA and Difrax have joined forces. HEMA is proud to present the S-bottle and pacifiers with a unique and recognisable HEMA design!
The Difrax S-bottle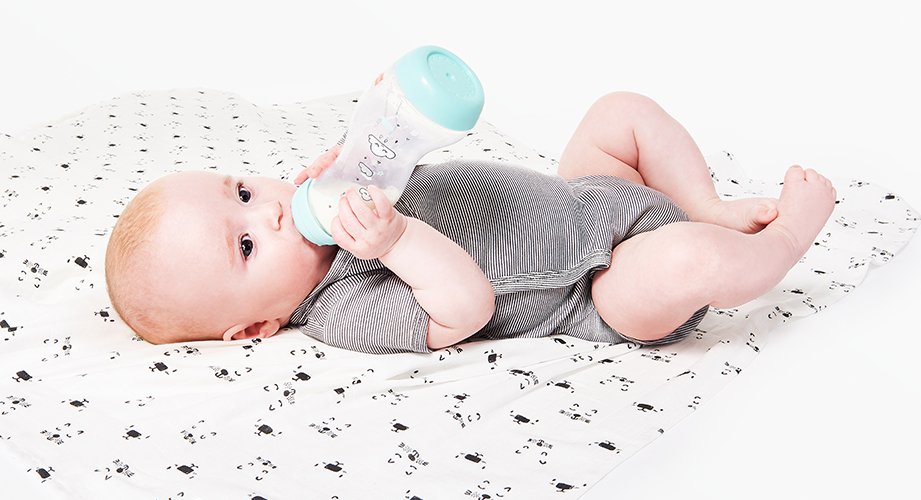 anti-colic system
The Difrax S-bottle features an anti-colic system. The special valve in the base of the bottle keeps any air bubbles from ending up in the milk. The bottle is also designed as an S shape. Together, the base valve and the S shape of the bottle ensure that the bottle teat is always filled with milk and not with air. Your baby can drink without swallowing air, with less risk of stomach cramps, burping and vomiting.

ergonomic design
The S-bottle has been ergonomically designed to promote a natural and relaxed feeding position. The S-bottle is suitable for use directly after birth.
All the advantages of the S-bottle:
anti-colic system
teat filled with nutrition rather than air
less risk of stomach cramps, burping and vomiting
ergonomic design
bottle content: 250 ml
parts of the S-bottle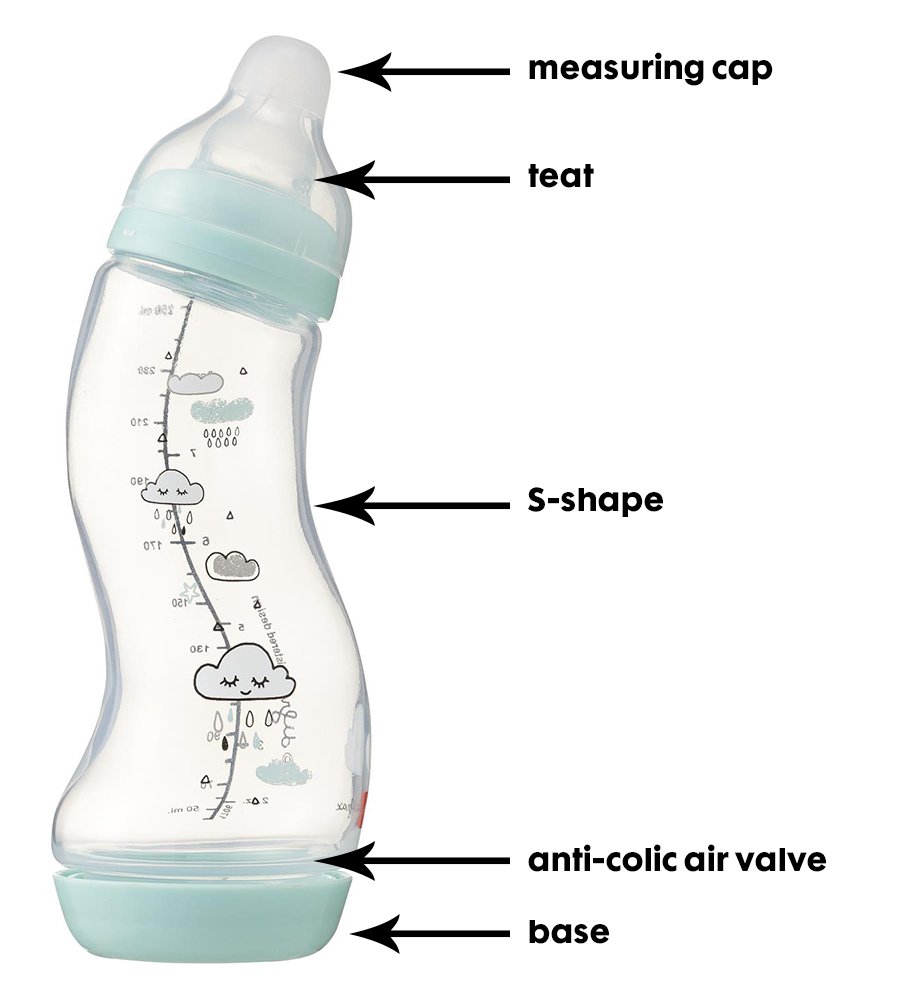 measuring cap
The bottle cap has a measuring scale, allowing you to easily check how much milk your baby has taken.
teat
The bottle has a silicon teat with a soft coating. This coating is BPA-free, odourless and tasteless and helps your baby grip the teat. The standard small size natural teat is supplied with the S-bottle. Your baby will happily accept this silky soft, natural breast nipple shaped teat. Replacement teats are also available in sizes M and L at hema.com.
S shape
The S shape promotes your baby's natural curved lying posture while feeding. The same position you adopt when breastfeeding.
anti-colic air valve
The anti-colic air valve prevents vacuum suction of the bottle, ensuring milk and air cannot be mixed. Your baby will swallow less air while feeding and is less likely to be troubled by stomach cramps after feeding.
base
The unscrewable base of the S-bottle makes it easy to fill with frozen breast milk.
tips for use of the S-bottle
In order to retain maximum nutritional value, we advise you never to heat baby food above 50 degrees.
Always check whether the microwave is set to the correct power level.
Before feeding, always check whether the milk is not too warm by dripping it on the inside of your wrist.
For reasons of safety and hygiene, we advise you to replace the silicon parts after one to two months.
pacifiers: does your baby need a pacifier?
During the first months of their life, most babies have a natural need to suckle. A pacifier is the solution. It makes them feel safe and secure while also calming them. What's more, a pacifier is easier on the teeth and is more hygienic than thumb-sucking.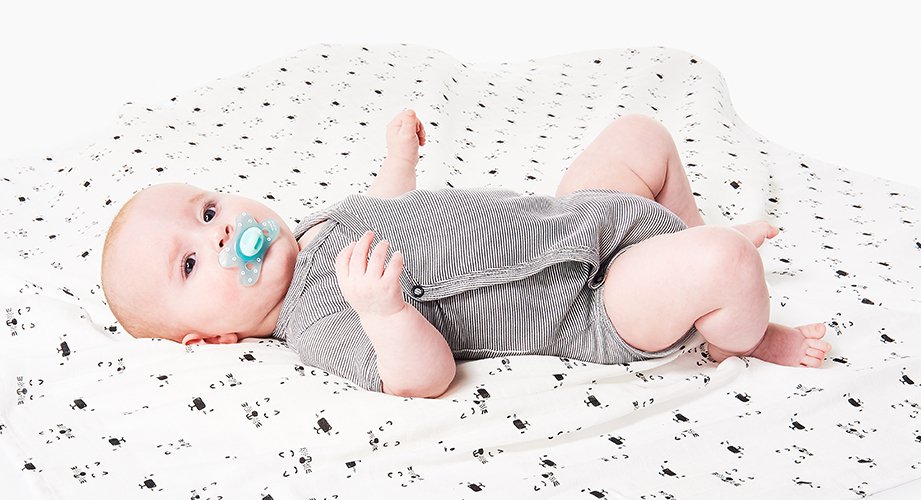 natural variant
The natural pacifier is breast nipple shaped and symmetrical. This has the advantage that your baby will readily recognise and accept it. The pacifier is also easy to turn.
butterfly shape
The pacifier's butterfly shape leaves your baby's nose free, to breathe freely and easily. The air holes in the butterfly shaped shield allow extra air flow and prevent skin irritation. Difrax pacifiers were developed in collaboration with dentists, to guarantee their safe use.
pacifier for various ages
There are four variants of pacifiers, for babies 0-6 months, 6+ months, 12+ months and 18+ months. Each size has a different shield which grows along with the shape of your baby's face. The older your baby, the firmer the sucking part of the pacifier, to match the sucking reflexes as your baby's jaws grow stronger. Is your baby starting to bite on their pacifier? It's time to switch to a teething ring or teething toy.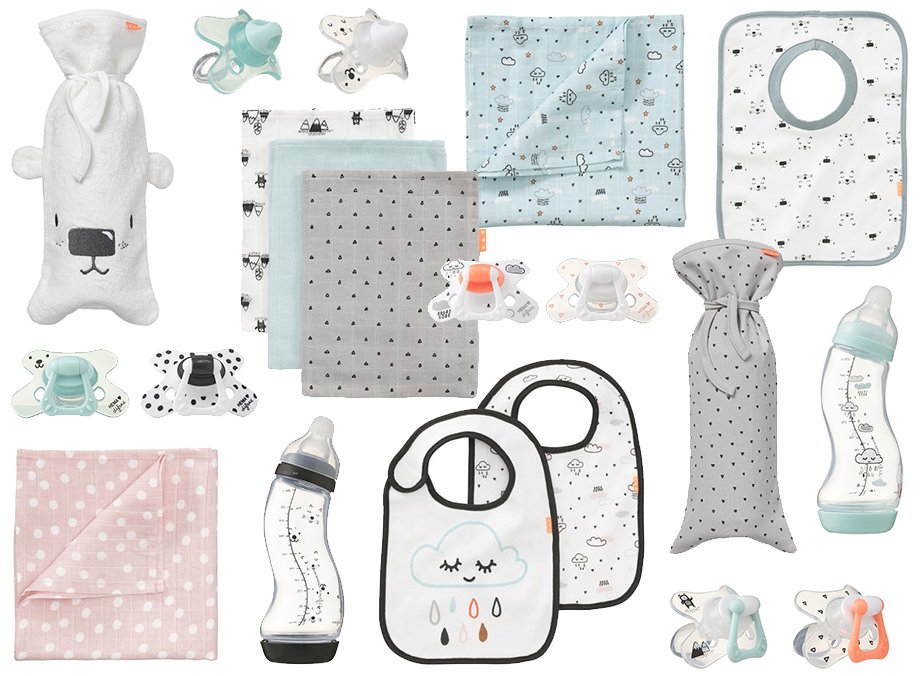 instructions for use of the S-bottle
Always wash your hands before using the S-bottle and ensure that all parts are dry. Once you have filled the bottle, it can be heated using a bottle warmer, au bain marie or in the microwave. Take care: never heat the milk in a closed bottle, as pressure can build up. Briefly stir the milk in order to ensure even heat distribution, but make sure not to create too many air bubbles in the milk. To prevent leakage, we do not advise storing a full bottle for a long period of time. Hand creams or sun creams can cause the print on the bottle to fade.
cleaning instructions for the S-bottle
Always clean the S-bottle before each feed. Never use aggressive or antibacterial detergents. Before using the S-bottle for the first time, we advise you to soak it in boiling water for 5 minutes. All parts of the S-bottle are dishwasher proof. Make sure you always place them in the top rack.
cleaning the pacifier
The pacifier is dishwasher proof. Never use antibacterial or abrasive cleaners.
safety instructions for the pacifier
HEMA pacifiers naturally comply with the European safety requirements, but because we can never emphasise safety enough, here are a few tips to use your baby's pacifier as safely as possible.
Always check the pacifier before giving it to your baby, looking for weak spots such as cracks or bite marks. The easiest way to do so is to pull hard on the sucking part.
Replace the pacifier every 6 weeks, or if it starts to show signs of wear.
Are you using a pacifier with a cord? Make sure the cord is shorter than 22 cm, and never hang a pacifier on a cord around your baby's neck.
Never use a pacifier cord in bed.
Is your baby starting to bite on their pacifier? It's time to switch from the pacifier to a teething ring or teething toy.