like a king
On the 27th of April the whole of the Netherlands will colour orange in celebration of King Willem-Alexander's birthday, also known as King's Day. With HEMA being a company with firm Dutch roots we'd like to celebrate this special holiday by treating one lucky winner to a weekend break to Amsterdam for two. You'll be staying in the HEMA-branded hotel for 3 nights and receive an exclusive tour of the HEMA headquarters in Amsterdam.
how to enter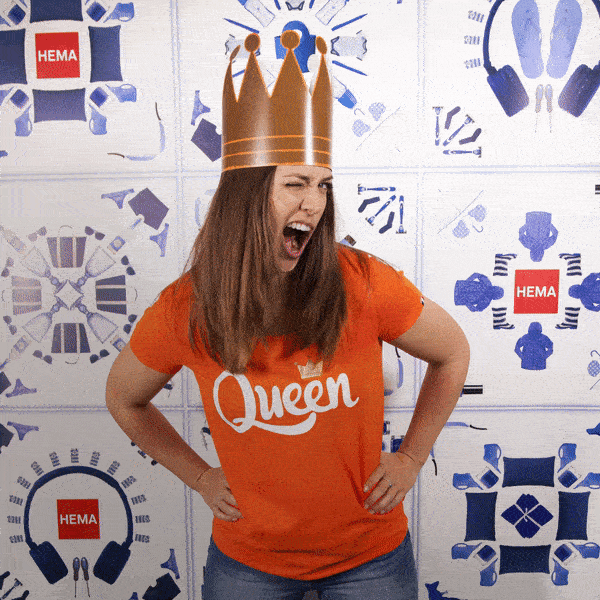 Visit one of our stores and pose like a king in front of the Dutch picturewall. Share your photo on Instagram or Facebook with the hashtag
#hemalikeaking
and tag us (Instagram: @hema.UK / Facebook: @hemaUK) to be in with a chance of winning this amazing prize, or 1 of the 5 Dutch Heritage prize sets.
You'll be able to enter this promotion from 18 April up to 30 April 2017.
You can view all the relevant promotional terms & conditions at the bottom of this page.
We look forward to seeing your awe-inspiring photos!
Like a King - promotional terms & conditions
General
1. The following terms and conditions (henceforth "conditions") apply to the #HEMAlikeaking competition (henceforth "competition") organised by HEMA B.V., NDSM-straat 10, 1033SB Amsterdam, (henceforth "HEMA").
2. Participation in the competition is open to HEMA customers with a minimum age of 18 years (henceforth "participant").
3. By participating in the competition, the participant accepts and declares to be aware of the conditions.
4. The competition will run from Tuesday 18 April until Sunday 30 April 2017 (henceforth "competition period").
5. Participation in the competition is free of charge.

The competition
6. During the competition period, participants may participate in the competition at the HEMA Dutch Heritage photo wall displays in HEMA stores in Germany, France, Spain and the UK (with the exception of the following stores: Paris les Halles station, Paris la Défense, London Hammersmith and London Broadway). By participating in the competition, participants have a chance to win one of the prizes.
7. The competition involves taking a photo at the HEMA Dutch Heritage photo wall at a HEMA store (henceforth "photo wall"), uploading the photo to Facebook and/or Instagram with the hashtag #HEMAlikeaking and answering a country-specific question. The question can be found at the the photo wall.
8. There will be one winner of the main prize in each country (henceforth "main prize winner"). The main prize winner will be chosen by HEMA with all due care on the basis of the number of so-called "likes", the originality of the uploaded photo and the correct answer to the competition question.
9. The winners of the main prizes will be announced on Friday 12 May 2017 on HEMA's Facebook and Instagram pages asking the winners to contact HEMA. The main prize winners will also receive a personal message from HEMA via Facebook or Instagram
10. In the event that HEMA fails to receive a reply from the main prize winners within 10 days of announcing the winners, HEMA is entitled to select a different main prize winner.
11. There will be five Dutch Heritage gift parcels as consolation prizes in each country. These consolation prizes will be selected and announced in the same manner as the main prizes.

The prizes
12. A total of six prizes will be awarded in each country over the competition period. These prizes consist of a main prize (henceforth "main prize") and five consolation prizes each consisting of a Dutch Heritage gift parcel with a retail value of €50 per parcel (henceforth "gift parcel"). The six prizes are referred to collectively as "the prizes."
13. The main prize consists of a (long) weekend trip to Amsterdam for two persons. The dates for the trip are Thursday 15 June 2017 (departure in the evening) until Sunday 18 June 2017. The actual travel times depend on the availability of travel tickets.
14. The main prize consists of train or air tickets departing from one of the following locations (depending on the location of the main prize winner). In the UK, departure will be from London; in France, Paris, Lille or Toulouse; in Germany, Cologne; in Spain, Madrid or Barcelona. The main prize includes three nights accommodation including breakfast at the Gooiland Hotel in Hilversum close to Amsterdam, (henceforth "hotel") on the nights of Thursday, Friday and Saturday. The main prize includes train tickets for travel from Schiphol airport to the hotel on Thursday 15 June 2017 and from the hotel to Schiphol airport on Sunday 18 June 2017. The hotel is within walking distance of the train station Hilversum CS. The total value of the main prize amounts approximately € 1000,-.
15. The main prize winners will be collected from the hotel on Friday 16 June for lunch and a tour of the HEMA Support Office in Amsterdam. The other days are at the disposal of the main prize winners to do as they please.
16. Each main prize will be sent to the main prize winner by e-mail in consultation with the winner. The Dutch Heritage gift parcels will be sent by post to the winners or made available for picking up at an agreed HEMA store.
17. HEMA has the right to publish the prizes and winners. All prize winners give HEMA the right to use their submitted photos as well as photos and/or videos of the awarding of the prizes during the prize trip and publish them in full or edited form and use them for publicity purposes in general. HEMA is not obliged to pay any form of compensation for this use.
18. The prizes may not be exchanged for money or other products or services.
19. The prizes may not be resold or used for commercial purposes. Trading of the prizes is not permitted.
20. HEMA is permitted to exclude a participant from the competition in the event that HEMA suspects that the participant is not acting in accordance with these terms and conditions or is attempting to participate in the competition in a fraudulent manner.

Privacy
21. Personal information will be collected by HEMA within the scope of the organisation and execution of the competition and for the purposes of booking the trips and shipping the consolation prizes.
22. HEMA shall only share personal data about the participants with third parties for the purpose of booking the travel tickets for the main prizes.

Liability
23. HEMA is not liable for any loss or theft of, or damage to, the gift parcels or the train or air tickets booked for the main prizes.
24. HEMA is not liable for damage of any kind that may result from or relate to participation in the competition.

Other conditions
25. The conditions are available for reading on http://www.hemashop.com/gb/promotional-terms-conditions as well as in the relevant stores.
26. HEMA employees are excluded from participating in the competition.
27. HEMA reserves the right to unilaterally change or terminate the competition without notice or consultation. Any termination of or changes to the competition, this will be announced on http://www.hemashop.com/gb/promotional-terms-conditions
28. For questions related to the competition, please contact HEMA's customer service department (phone: 0845 6060 903 or e-mail: customerservice@hema.nl)
29. The competition and related terms and conditions are subject to the laws and jurisdiction of the Netherlands. Participants have the right to assert compliance with national laws and regulations within the scope of the competition.

Amsterdam, April 2017